Charged Particle Beams Simulation
LORENTZ™ programs can simulate a wide variety of charge particle beam trajectory applications. Examples include Electron guns, Ion guns, Ion implanters, Nanotube field emitter, Sputtering sources, X-ray tubes and Ion propulsion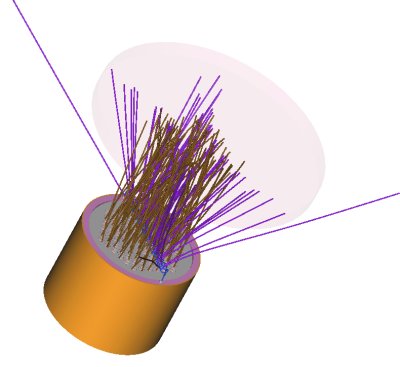 Physical properties that can be modeled are:
The nature of the emission source: Child's Law, Schottky Emissions, Fowler-Nordheim Emission, etc.
The effect of the beam charge on the electric solution.
The electric repulsion between like charged particle rays and attraction between opposite charged rays.
The magnetic effects caused by current in the beam, including self-magnetic effort of the beam on itself.
LORENTZ-EM™ (2D/RS) and LORENTZ-EM™ (3D) compute beam trajectories under the influence of both electric and magnetic fields simultaneously. The hybrid programs combine the full capabilities of ELECTRO™/MAGNETO™ (2D/RS) or COULOMB™/AMPERES™ (3D) and are particularly useful for designing charge particle beam trajectory applications.