Solar Power
Currently, solar energy generation is a highly valued renewable energy generation method. Use of engineering simulation software like CASPOC™ helps with the optimization of entire designs, whether it is a small-scale solar project or a large remote solar harvesting park.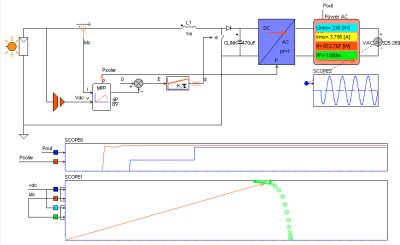 The complete system (solar power + grid connection) can be modeled, from varying sunlight density to grid connection. Engineers can either work with a standard model or enter the specific features provided by the manufacturer.
CASPOC™ is the best solution for solar power systems analysis.
Ideal solar model for first try
Variable solar density and temperature
Detailed solar model with characteristics from manufacturer
Special models for single cell, or entire module
Maximum Power Point (MPP) control
Power electronics detailed on switching level
Power electronics on system level
Detailed simulation on micro-second level
PQ control for grid connection
Connection to a single phase or three phase grid
System simulation to see the performance for a day or week, for varying sunlight density and temperature